Lake Cumberland Regional Hospital presents The DAISY Award for Extraordinary Care to Kaitlyn Gregory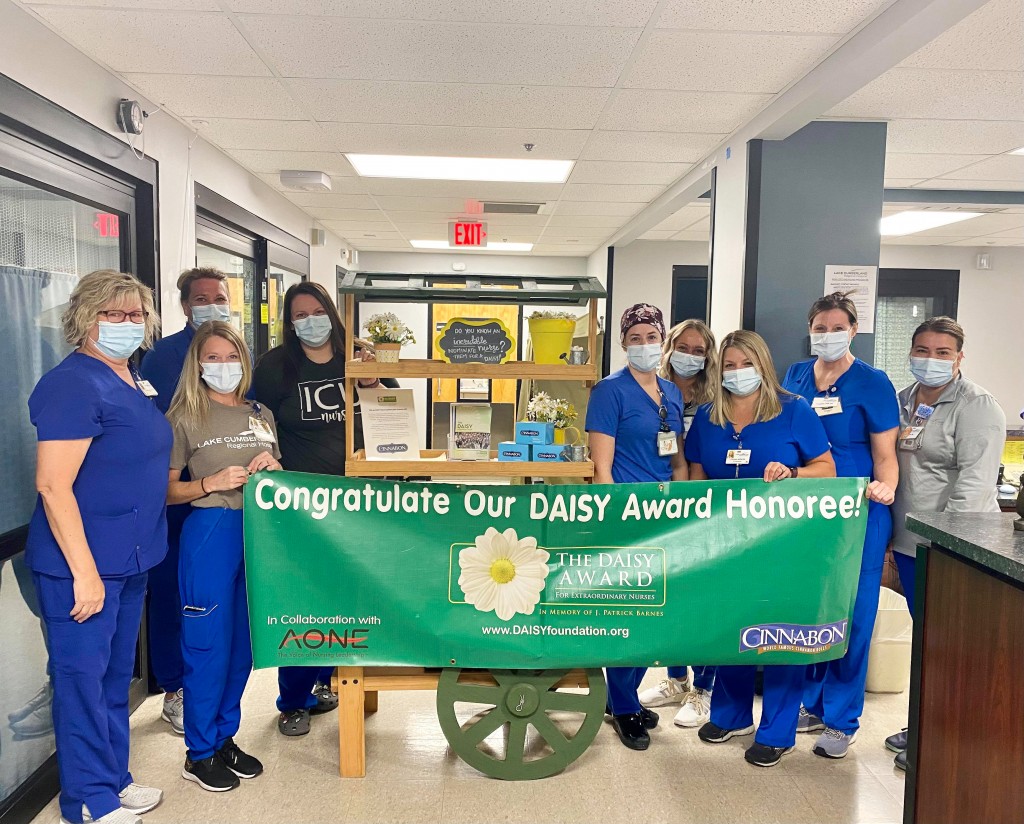 Lake Cumberland Regional Hospital recently presented the DAISY Award® for Extraordinary Nurses to Kaitlyn Gregory, RN, in recognition of her commitment and patient-centered approach to care. The award is part of the DAISY Foundation's program to recognize the super-human efforts nurses perform every day.
The not-for-profit DAISY (Diseases Attacking the Immune System) Foundation is based in Glen Ellen, CA, and was established in memory of J. Patrick Barnes. Patrick died at the age of 33 in late 1999 from complications of Idiopathic Thrombocytopenic Purpura (ITP), an autoimmune disease. The care Patrick and his family received from nurses while he was ill inspired them to begin the foundation, and this unique way of thanking nurses for making a profound difference in the lives of their patients and patient families.

LCRH's first DAISY honoree of 2021, Kaitlyn, is a nurse on the Intensive Care Unit, and was nominated for her compassionate care by a former patient's family. Excerpts from the nomination include, "Kaitlyn always goes above and beyond in her job. She is a team player, always eager to lend a helping hand to fellow coworkers and spends countless hours making her patients feel as comfortable as possible. She fights for her patients and had she not been the one caring for our family member, they would not be alive today."
Nurses may be nominated by patients, families, and colleagues. Bi-annually, the DAISY Award recipient is selected by a team of LCRH's nurse leadership. A surprise presentation is given on the honoree's unit in front of team members, executive leadership, physicians, and peers. They are presented with a certificate, a DAISY Award® pin, a special parking spot, and a beautiful hand-carved sculpture entitled "A Heather's Touch." Additionally, the honoree is celebrated with iced cinnamon rolls- a favorite of Patrick's during his illness.
"We are proud to honor Kaitlyn with the DAISY Award for the quality, compassionate care she provides to her patients," said Pam Booker, RN, MSN, CNOR, CPPS, Chief Nursing Office at LCRH. "Nurses are heroes every day. Participating in The DAISY Award program is just one way for us to show them that their hard-work is always highly valued."
For more information on the DAISY Award® or to nominate a nurse today, visit LakeCumberlandHospital.com/daisy-award.


Read All Posts