Assessment and Admissions: 24/7
Compassionate and caring professional staff members will take your call and then consult with the attending psychiatrist to ensure clients receive the appropriate level of care. Referrals to our behavioral health units may be made by physicians, psychologists, psychiatrists, social workers, ministers, nurses, home health agencies, family members, therapists, teachers and other agencies.
Patients experiencing behavioral health emergencies who present to the Emergency Department at Lake Cumberland will be evaluated for admission, and the appropriate level of care will be recommended for treatment.

If inpatient treatment is recommended, admissions can be processed 24 hours a day, 7 days a week. To obtain a free, confidential assessment, call 606.678.3440.

---
Pet Therapy Services

Lake Cumberland Regional Hospital has established a pet therapy program for patients and staff throughout the facility. Cassie, a 19-month-old Red Merle Australian Shepherd and Freedom, an 8-year-old yellow Labrador Retriever, and Muse, a 10 1/2 month old Sheltie, are the new caring canines offering support and comfort to patients and staff on a regular basis.
Cassie, Freedom and Muse have all gone through extensive training to obtain the necessary credentials to be able to provide services at our facility. To even be considered, there are certain requirements that must be met related to the dog's age, temperament, health, training and certifications. The dogs' handlers must keep up with certifications and evaluations on a regular basis and need to continually meet standards and regulations for the service dog industry.

"When Freedom is around, patients on our behavioral health units feel a sense of comfort and unconditional love. She has an uncanny ability to 'read' the situation and adapt to our patients' needs," said Dr. Manoj Chandran, Medical Director of the Behavioral Health Unit. >>> Read more about this unique program, here.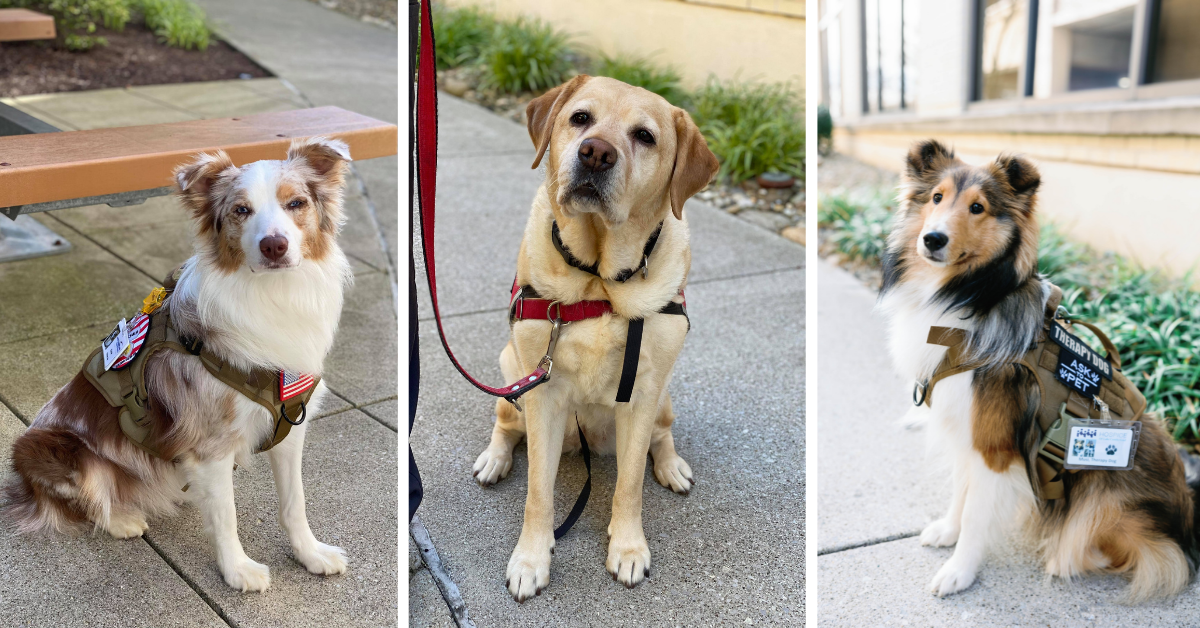 L to R: Cassie, Freedom and Muse