Coronavirus (COVID-19) Updates & Information
Updated August 27, 2021




COVID-19 vaccines are available locally at Lake Cumberland Medical Associates by calling 606.451.2756


At Lake Cumberland Regional Hospital, our top priority is safeguarding the health and wellbeing of our patients, providers, employees and community. We continue to closely monitor the prevalence of coronavirus (COVID-19) in our community and follow state and federal guidance as we adapt our operations to safely care for and support our patients. As our community reopens, we want you to know all that Lake Cumberland is doing to prevent the spread of infectious disease. Lake Cumberland has your safety covered.
Effective Thursday, August 26, 2021 at 8:00 AM:

NO visitors will be allowed to enter the facility, with the following exceptions:

Obstetric patients may have one well visitor, per day
Patients who are minors under age 18 may have one parent or guardian visitor
Patients undergoing OUTPATIENT surgery or procedures may have one visitor who should leave the hospital as soon as possible after the procedure or surgery
Two well visitors and/or clergy may visit patients end-of-life care
Emergency Room patients may have one well visitor



As of Monday, August 16 all admitted patients, included those admitted for observation or specialty units will be tested for COVID-19.

Pre-operative and pre-procedure COVID-19 testing will be at the discretion of the ordering physician or surgeon. If you are undergoing an outpatient procedure, your provider may place the order for the test, and if so, the hospital will reach out with instructions for scheduling. Click here for current testing policies.

Vaccines are available locally at Lake Cumberland Medical Associates by calling 606.451.275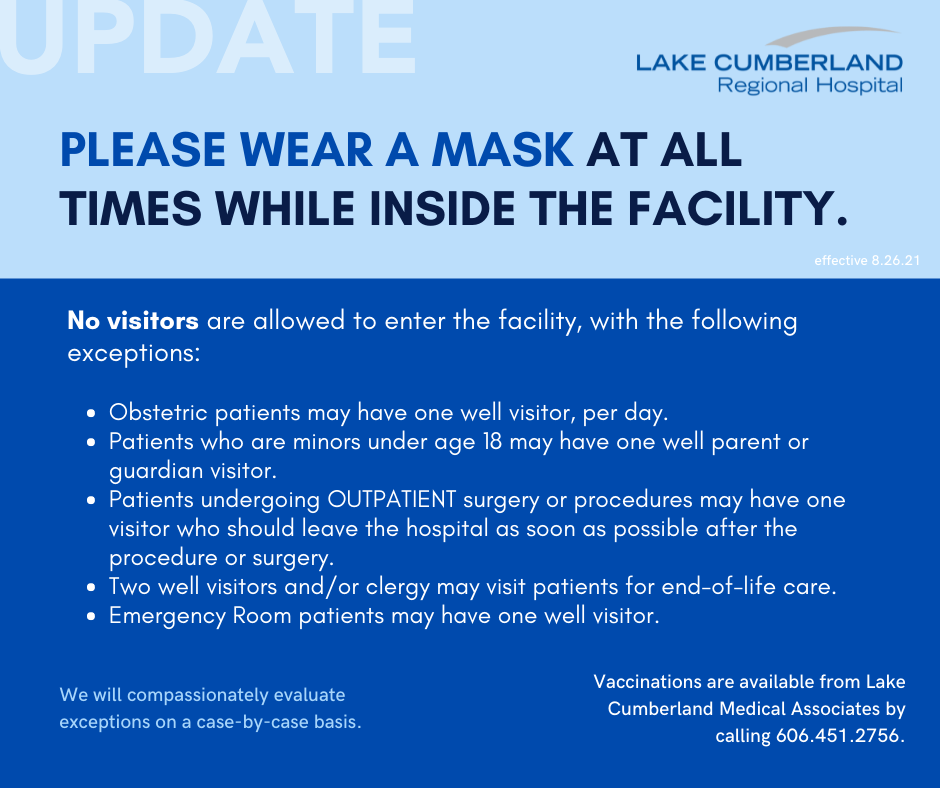 Use the links below for additional information on COVID-19 restrictions, information, and resources:

Visitor Restrictions & Screening
Vaccine Information
Third Dose Vaccines
Delta Variant Information
Guidance on Elective Surgeries
Caring for COVID-19 Patients
Understanding COVID-19
---

Visitor Restrictions and Screening