Living Life to the Fullest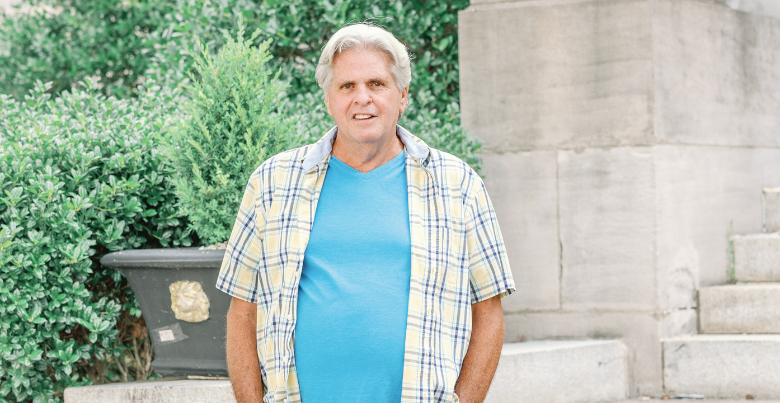 Ben Ballenger, a 71-year-old native of Russell County, KY, resides with his wife Deniece in Pulaski County. Sprawling on six acres, Ben strives to care for the land he has worked so hard to obtain. He takes great pride in keeping his yard mowed and spends a lot of his time maintaining his and his sister's properties.
While Ben loves to be active and spend time working outdoors, consistent knee pain from previous injuries started to slow him down. "I've worked all my life in construction," says Mr. Ballenger. "I spent all day on a ladder, climbing ladders and working on the roofs and angles. And early on, I'd try to play basketball. I'd get hurt on the weekend, suffer for three days, and go to work on the bad leg. Then by Friday, I'd be okay and play basketball again."
Ballenger continued, "When I was younger, I had an accident while horseback riding. And in the '70s, I had knee surgery, and afterward, my knee continued to bother me. Finally, last August, I was involved in an automobile accident. Another car hit me head-on, which severely messed up my right knee. I literally couldn't walk," he explains. "I had just retired and got to where I couldn't walk, and I thought this wasn't going to be very much fun."
Following the accident, Ben went to a local walk-in clinic, where he received an X-Ray of his injured knee. After a visit with his primary care physician, he was referred to Dr. Jesse Pace, an orthopedic surgeon with Lake Cumberland Orthopedics: Sports Medicine. Dr. Pace's office offers a wide range of orthopedic and sports medicine services, including total joint replacement, fracture care, issues arising from arthritis and overuse, sports, or physical activity-related injuries, and more. "My primary care physician told me Dr. Pace was one of the best around, and I trusted her opinion," says Ballinger.
Ben proceeded to make an appointment at Dr. Pace's office and was happy with his care from that point forward. "At his office, everybody was friendly and nice, and I didn't even have to wait too long for any of my appointments," he exclaims. "Dr. Pace is very friendly."
Further, Ben complimented the office staff, specifically Daniel Cannon, office manager. "The communication was great. He'd call me, return my calls promptly, and tell me he received my messages. I've been really impressed with the office," he said.
After his consultation, it was determined that Ben needed a knee replacement and that he was a candidate for robotic-assisted knee surgery. A robotic knee replacement is like a traditional knee replacement in that a surgeon removes damaged tissue in a patient's knee and replaces it with an artificial joint. The difference is that it's done with assistance from a robotic arm.
The Robotics Surgical System creates a customized 3D three-dimensional view that helps a surgeon choose the right implant for patients. In addition, the 3D digital model eliminates the need to get a CT scan of a knee before surgery, which reduces exposure to harmful radiation. The Robotics Surgical System also helps ensure that the procedure is performed as the surgeon planned, providing the benefits of enhanced accuracy compared to traditional knee surgery. Accuracy is essential because it not only helps the implant function as intended but also helps avoid uneven wear, which can shorten the longevity of an implant.
Because of the ease of the surgery and the timing of the surgery schedule, Ben decided to move forward with the robotics-assisted total knee replacement on February 3, 2022.
"Working with Mr. Ballenger was tremendously gratifying," says Dr. Jesse Pace. "He was an excellent patient who worked hard, complied with therapy, and had an excellent outcome. The CORI robotic system allowed me to provide Mr. Ballenger with a surgical experience that was more precise and fine-tuned. Mr. Ballenger's excellent outcome speaks not only to his determination and work ethic, but it also reveals how much quality and accuracy this robotic system adds to our joint replacement process."
New Lease on Life
Ben can't believe the outcome of his new knee. "I've seen scars that are half an inch wide. And Dr. Pace's scar, you can't even tell it's there," he says. When questioned on his quality of life, Mr. Ballenger says, "It's amazing the difference. My quality of life is just improved drastically. Just being able not to have pain, to take a step without hurting, and to trust my leg, is just a huge difference. I would probably have replaced my knee ten years ago if I had to do it over again."
Ben does not minimize the pain associated with the procedure and the following physical therapy. "Whether you are at a hospital or home, there will be pain," he said. "I went to physical therapy after surgery. I also did therapy at home, which I think helped my recovery. It hurts, but it's necessary to get the movement back."
With his right knee healed, Ben is also moving forward to replace his left knee. "The second time around, there was no question about whether or not to have surgery," he said. "And rehab will be easier this time around too. My experience was great. They gave me all the tools I needed to be successful."

To learn more about minimally invasive robotic-assisted knee replacement surgery, click here
Read All Posts