Pulaski County Twins Celebrate 93rd Birthday with a COVID-19 Vaccine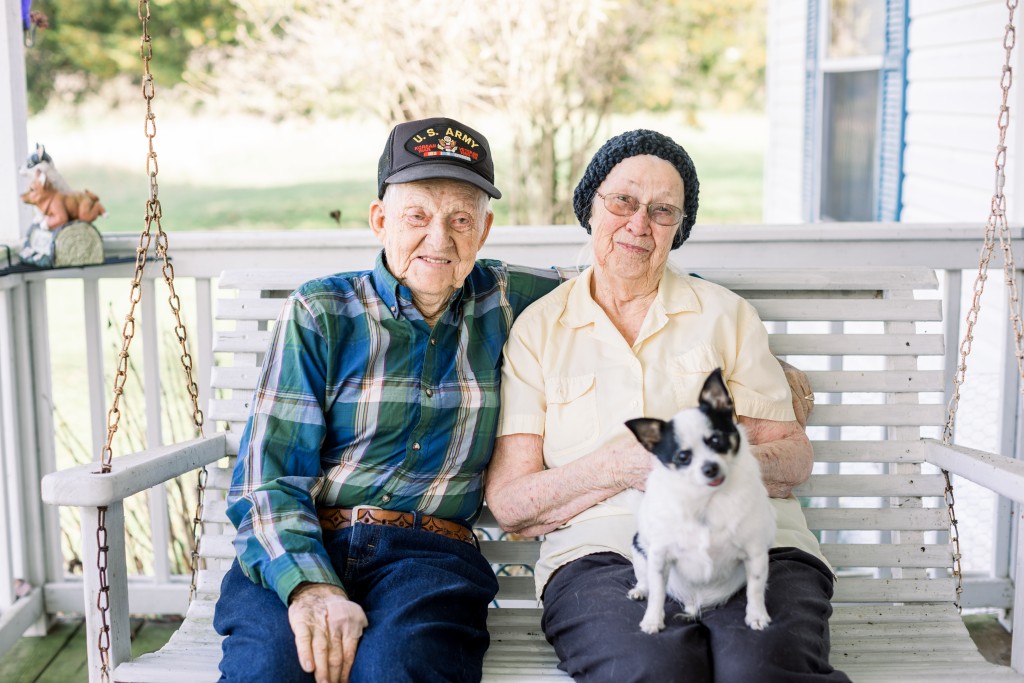 In 1928 the population of Pulaski County, Kentucky sat at around 35,000. Today, the county has grown exponentially, with a population of close to 65,000 at the last census, and new restaurants, businesses, art events, and festivals popping up at every turn. Two Pulaski county natives, 93 year-old twins Roy Smith and Ruey Smith Crouch have born witness to nearly a century of this history. The twins, who celebrated their birthday in February of this year by getting a COVID-19 vaccination at Lake Cumberland Regional Hospital, are emphatic that the last year of the Coronavirus pandemic may be the strangest thing they've experienced – even after living through World War II, the Vietnam and Korean Wars, and being able to recall the long lines for polio and typhoid fever vaccinations during their youth.

"I've never seen nothing like it," Roy shares. "It's going to be hard to get rid of, it looks like."

Ruey and Roy are quick to laugh and both have bright eyes. She lives in a white, wood-sided house with a porch swing and a Chihuahua her granddaughter laughably and affectionately named "Thor." Roy resides in the log cabin behind her on their shared property, a house that the two of them helped build when they were just seven.
"They cut down maple trees and we took our hatchets and took the bark off," Ruey explains. They both talk over one another, sharing stories of their childhood together, school antics, and loved ones they've lost. Ruey is particularly wistful about the large family gatherings they had pre-covid. "Christmas, there would be 30 or 40 in here," she describes as she motions to the room around her that is filled with family photos. "And Easter… we was together every holiday."

One of Roy's sons, John, moved from Vancouver, Washington to help care for him full time but it's clear Roy misses the celebrations too: "My family's not got to come and see me during all this," he says. Ruey interjects that she has two children who live nearby and have come every week to visit and always wear their masks.
Roy had three children - two boys and one girl, and Ruey had five - four boys and a girl. Neither can quite recall the full number of Smith family grandchildren and great-grandchildren they have but Ruey smiles wider than ever as she describes her two "great-greats," a fourth generation to carry on the family name and legacy.
Despite their age, their memories are sharp and they are eager to share them. Roy joined the army and spent the first couple of years of the 1950's building runways for the air force in Germany and France. After the war, he made a second career working in Dayton, Ohio for General Motors, served as a volunteer fireman, a volunteer scoutmaster, and worked at a hospital pushing wheelchairs, returning to his childhood home in Kentucky to retire. "I came back here and I been farming ever since," he explains. "I still get on the tractor and do little jobs."

Ruey stayed a bit closer to home to help on the family farm, leaving Pulaski County only for a short, four-year stint in Indiana. Each spring she tends a flower garden full of roses, lilacs, hibiscus, geraniums and crepe myrtle just a few steps from her front porch. Thor is always at her side, somehow understanding to stay out from under her feet, as Ruey has age-related macular degeneration causing partial blindness.

Roy also has vision difficulties, although his are related to myeloma, a type of cancer that forms in white blood cells, and the twins are both are hard of hearing. But Roy and Ruey lead active, daily lives, and are looking forward to warmer weather and sunshine. "I'd like to see all of my flowers in bloom," Ruey says.

It is obvious that the pair hasn't let the coronavirus steal a day of their joy. Ruey says she would tell folks that are nervous about the vaccine to "go get it, help yourself and your family and friends." And Roy adds that he's not afraid to go to the doctor: "I go to my heart doctor, my cancer doctor, dermatologist, and to my family doctor. I'm not afraid at all."
When asked if he thinks these doctors have something to do with him reaching the age of 93, he laughs, shakes his head and replies simply, "I think just good ole hard work done it."
Both Roy and Ruey received their COVID-19 vaccinations at LCRH, crediting their sons as well as long-time LCRH staff members Melissa Lancaster and Arlene Mofield for their help in getting in for the vaccine.

Mofield is a familiar face at LCRH, having worked at the hospital since 1979 and as the Director of the Senior Friends Program since 2000. During the last year she has been serving in a different, but much needed capacity: helping to screen patients and visitors, answer questions, give directions, corral those waiting for vaccine appointments, and generally serve as an immediate friendly face to those entering the hospital.

"Like everyone else, this last year has been nothing like I could have imagined," shared Mofield. "Sometimes my most important job was to reassure family members that their loved ones were well taken care of when visitors were limited. I've gotten to embrace and serve our patients and their families from start to finish on their healthcare journey – whether they are here for pre-operative testing, an emergency, or simply a COVID vaccine. I want everyone who interacts with the hospital to be treated exactly like I would want my family treated – with compassion, care, and kindness."




Lake Cumberland Regional Hospital (LCRH) fulfilled an immediate critical need in the community by volunteering as a state selected regional hub for vaccine administration last fall when it became clear that a vaccine would soon be available for distribution. Since the first vaccine was given at LCRH on December 22, 2020, the hospital and Lake Cumberland Medical Associates (LCMA) have together administered over 7,000 vaccines to date.
According to the Centers for Disease Control and Prevention (CDC), all COVID-19 vaccines currently available in the United States have been shown to be highly effective at preventing COVID-19. Experts also believe that getting a COVID-19 vaccine may also help you from getting seriously ill even if you do get COVID-19 and getting vaccinated can help protect people around you, especially those at increased risk for severe illness from COVID-19, like the elderly or immunocompromised.

As the availability of vaccines in the community has become more widespread in recent weeks, LCRH has shifted their allocation to LCMA for administration beginning April 5; second dose vaccinations for those who have received their first dose prior to April 5 will still be given at the hospital. For a comprehensive listing of vaccine sites in your area, please visit the Kentucky Department of Health's Vaccine Map online at https://govstatus.egov.com/kentucky-vaccine-map or contact the Lake Cumberland District Area Health Department. For additional information on visitor guidelines and COVID-19 preparedness at Lake Cumberland Regional Hospital, please visit https://www.lakecumberlandhospital.com/coronavirus
Read All Posts