Back to the Future | Jason's Story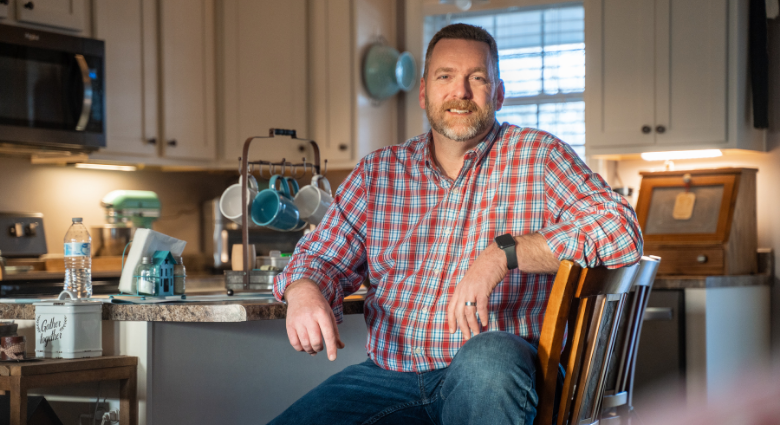 Jason Shanks had dealt with severe back pain for long enough. He was busy with a full-time job at a manufacturing company, an active family man, and an avid hunter who worried that the chronic pain would mean he would need to give up more of his physical, mental, and emotional health.
Jason has endured surgery twice during the past 12 years, to ease the intense discomfort in his back and legs. Each time spending several days in the hospital and many weeks recuperating.
"I was extremely fortunate to be able to get in to see Dr. El-Naggar at Lake Cumberland Neurosurgical Associates for both of my surgeries so quickly," said Shanks. Unfortunately, after my second surgery in December 2009, I was diagnosed with Degenerative Disc disease which meant there was a possibility that I would have problems in the future."
Remarkably, Jason was able to make it 11 years before he had another episode. "In early 2020, I began to experience the severe pain in my back, but more concerning was the pain running down my left leg," said Shanks. "I decided to see my primary care physician who quickly referred me back to Dr. El-Naggar."
After standard imaging and several tests, Dr. Amr El-Naggar, one of Pulaski County's two neurosurgeons, determined that another procedure was Jason's best and only option. He had two discs that were almost completely deteriorated leaving vertebrae to rub against vertebrae. Jason dreaded the thought of having another surgery and enduring more recovery time.

A Unique Blueprint for a Pain-Free Life
Jason's anxiety over needing a new operation quickly turned into excitement when Dr. El-Naggar told him about the new robotic spinal surgery technology available at Lake Cumberland Regional Hospital (LCRH). LCRH is the only hospital in the region and just the third in the entire state to offer this technology.
"I was not nervous about having robotic assisted surgery," said Shanks. "Actually, I was very interested in the process from my experience at our battery factory in Russell Springs. I am familiar with just how precise and efficient a robot can be and was intrigued by this new method."
Dr. El-Naggar performed Jason's robotic assisted surgery on June 16, 2020 just a few months after the new surgical tool arrived at Lake Cumberland. The surgery went as planned and Jason was able to quickly begin the recovery process. "For Jason's operation, we employed the highest standards of minimally invasive surgery and combined it with the extreme accuracy and sophistication of the robotic guided system. This approach provided the highest safety and protection for the neural elements of the body, while allowing us to save operative time without compromising accuracy," explained Dr. El-Naggar. "Other benefits of this approach include decreased chances of surgical site infections, less pain and blood loss for patients, and quicker recovery times."
With Lake Cumberland's robotic guidance platform, surgeons apply 3D software to a patient's CT scan to map out the surgery. Once the procedure begins, the robot helps recreate the same surgical approach that was planned ahead of time – similar to how a GPS system works in your car. With precise mapping and navigation, surgeons are able to place instrumentation more accurately and safely, which leads to fewer complications, less postoperative pain and a faster recovery time.

Dr. El-Naggar and his partner Dr. Magdy El-Kalliny, could be considered household names in Somerset and in much of Kentucky. As neurosurgeons they've been in practice at Lake Cumberland Neurosurgical Associates since 2017 and in private practice 25+ years prior to that. Combined, they have over 55 years of neurosurgery experience.

A FASTER ROAD TO RECOVERY
"The surgery went as planned, and I awoke with discomfort but little pain," explained Shanks. "I began to feel dramatic improvement with each new day."
Robotic spine surgery patients are typically able to resume normal activity in a matter of weeks, whereas open spine surgery can require longer hospitalization and recovery time. Jason did not need any physical therapy afterwards and was happy to be able to return to full-time work in just a couple of short weeks.

"I slowly began to walk every day as instructed by Dr. El-Naggar, and each day I gained strength," he described. "By the first week of July, I was able to go back to work part-time. By the second week of July, I was back at full time work. My recovery time was definitely aided by the fact that with the robotic surgery there were 10 small incisions instead of one very large cut."
Shanks further shared: "I was impressed by the technology and know that my quick recovery time was aided by the minimally invasive aspect of robotic assisted surgery. I feel better today than I have felt in over 12 years! I am able to sit for long periods of time without pain, I have a range of motion that I have not had in years, and my days of flare-ups are virtually nonexistent. I tell people I am better than 100% now!"

Jason is very thankful to have received such innovative, high-quality care, close to home. He credits Dr. El-Naggar and his team with helping him get his life back. He's enjoying his family and hobbies, pain-free, with his wife, Laura, and two kids, Elizabeth and Andrew.
"Throughout the entire process, Dr. El-Naggar and his staff were extremely helpful and informative. I always had every question answered and never felt like just another patient," said Shanks. "They were friendly and professional, and I am very thankful for the compassion shown to me and my family."
For more information on Lake Cumberland's robotic assisted surgical options, visit LakeCumberlandHospital.com/robot.
Read All Posts