Not Too Young for Colon Cancer | Ashley's Story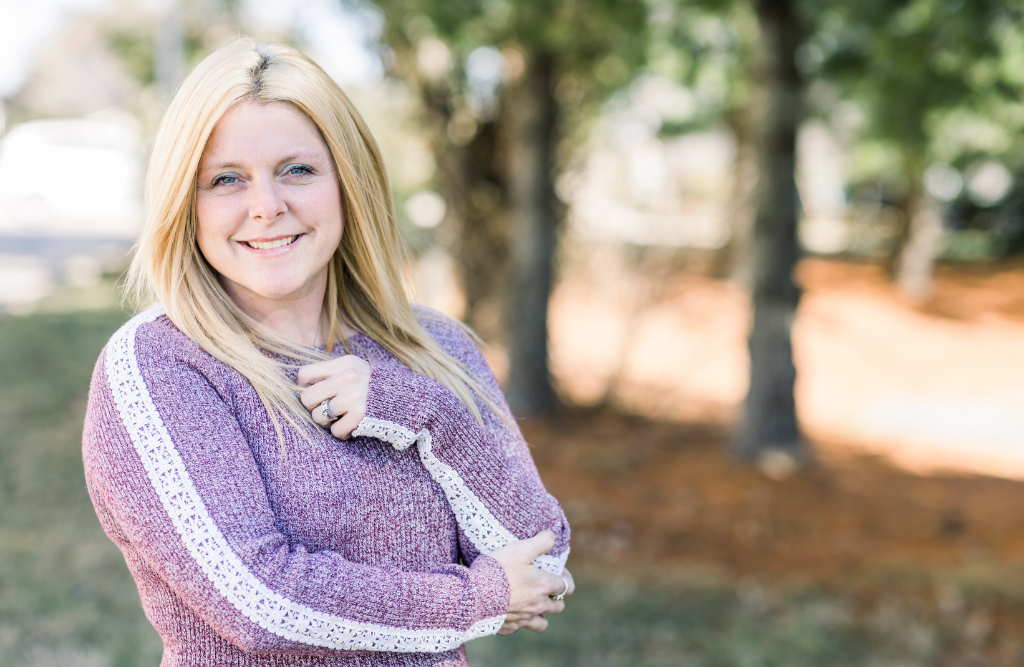 When Ashley Loudermilk, a 37-year-old mom of three from Somerset, started experiencing extreme fatigue in early 2019, she was not overly concerned. She considered herself a hard-working, active adult who stayed busy with work, social activities and her kids. Her responsibilities and hobbies kept her busy, so feeling tired was not necessarily out of the norm. However, when more sleep and other interventions were not helping her situation, she started to wonder what else could be going on.
A few weeks later, Ashley noticed blood in her stool. It only happened a few times and she didn't associate it with any of her other symptoms. She simply wrote it off as hemorrhoids and assumed it would take care of itself.
"After about two months of feeling run down, others in my family began to notice that I didn't feel or look well and was losing quite a bit of weight," said Ashley. "They urged me to go see my doctor and I'm thankful I made the decision to do so at that time."
Ashley's primary care physician took note of her symptoms and quickly referred her to a local gastroenterologist, Dr. Brenda Jobson with Lake Cumberland Gastroenterology in Somerset.
"The day of my appointment I explained to Dr. Jobson my symptoms and she recommended that I have a colonoscopy," said Ashley. "I was hesitant about the screening at first because I knew I was young and didn't have any family history of colorectal cancer. However, Dr. Jobson insisted that it was one of the most effective ways to know for sure about what was going on."
A colonoscopy is a screening test in which a thin, flexible tube with a light and a video camera on its tip is placed in the colon. The doctor can carefully examine the colon for any pre-cancerous polyps (abnormal growths) that could potentially turn into cancer. The Centers for Disease Control & Prevention (CDC) recommends regular colonoscopy screenings, beginning at age 50, but for those with a family history of colorectal cancer or other risk factors, screening should begin much earlier.
"I was definitely nervous about my colonoscopy, but Dr. Jobson and her staff had such great bedside manner, and I could tell they really care about their patients," explained Ashley. "She explained everything to me very clearly, so it was easy for me to understand the process. I would recommend Dr. Jobson and her team to anyone needing a gastroenterologist in the area."
Ashley's colonoscopy screening went routinely, but results were not what she expected. A mass was found inside her colon and would need to be biopsied and sent off for results to determine if it was cancerous.
"When I received my results, I was in complete shock! I could not believe what I was being told," described Ashley. "I was diagnosed with Adenocarcinoma. I had stage 3 colorectal cancer. And at that moment I knew my life would never be the same."
Adenocarcinoma is a type of cancer that starts in the mucus-producing glandular cells of the body. Many organs have these glands and adenocarcinoma can occur in any of these organs. According to the American Cancer Society, adenocarcinoma accounts for roughly 96% of all colorectal cancers.

Hope & Recovery
After Ashley's cancer diagnosis, her care team quickly developed a treatment plan for her to receive the lifesaving surgery, radiation and chemotherapy that she needed. While Ashley's surgery was performed in Lexington and she received chemo at Commonwealth Cancer Center in Somerset, she returned to Lake Cumberland's Cancer Treatment Center and radiation oncologist Dr. Amtullah Kahn for her radiation treatments.
"I had to do six weeks of chemotherapy and six weeks of radiation," said Ashley. "I then had to have a colon sigmoid resection with loop ileostomy and a hysterectomy. From there I had to do twelve more rounds of chemo and then a reversal surgery on my ileostomy."
The Cancer Treatment Center of Lake Cumberland Regional Hospital is the only Radiation Oncology Center in the region, providing radiation treatments to patients with both cancerous and non-cancerous tumors. Lake Cumberland is also a proud partner of the UK Markey Cancer Center Affiliate Network, which provides patients with enhanced access to quality cancer care, close to home.
"I was very impressed with the care I received at the Cancer Treatment Center," described Ashley. "Dr. Khan and her team were very supportive and determined to help me beat this terrible disease. They really cared about me and made me feel comfortable throughout the entire journey. It also really helped that I was able to do all of these treatments locally."
Ashley has endured a long, painful treatment process and several other medical issues that have greatly changed her life.
"My life has not been the same. I've struggled a lot mentally, physically and financially, but I have a greater appreciation for it," said Ashley. "I know now that life should not be taken for granted because it truly is so precious."
"I'm also extremely thankful for Dr. Jobson and how she has stayed on top of my care." I still have routine checkups and they frequently call to check in on me. When I'm there I don't feel like a patient, I feel like family," said Ashley.
"Get A Test, Give Worry A Rest"
Ashley has become a strong advocate of colonoscopies, speaking often to others about their importance and being transparent about her won battle with colorectal cancer.
"I understand now why they call colorectal cancer the silent killer," said Ashley. "I experienced very few symptoms and was already in stage 3 when I was diagnosed. I hope that by sharing my story, it will encourage others to get screened and just to stay on top of their health no matter what is going on."
Colorectal cancer is the third most common form of cancer, affecting both men and women in approximately even numbers. Yet it is one of the most preventable cancers due to the available options for screening. Ashley had no family history of colon cancer that would have triggered a colonoscopy before the recommended age of 50; however, making the decision to seek expert care and get a screening saved her life.

"Ashley was only 35 years of age when she was diagnosed with stage 3 colon cancer. The truth is, you're never too young for a colonoscopy," said Dr. Brenda Jobson. "Colorectal Cancer is on the rise in younger adults, with one in 10 colorectal cancers being diagnosed before the age of 50. Colorectal cancer can happen to anyone and does not care about age."
"I encourage all of those battling colorectal or any type of cancer to keep fighting, keep your faith and stay positive," exclaimed Ashley. "If you are a person who has not taken the first step for your health, I strongly suggest you call and make an appointment with your doctor today. If you want my advice, get a test, give worry a rest!"
Read All Posts