Knowing By Heart | Rick's Story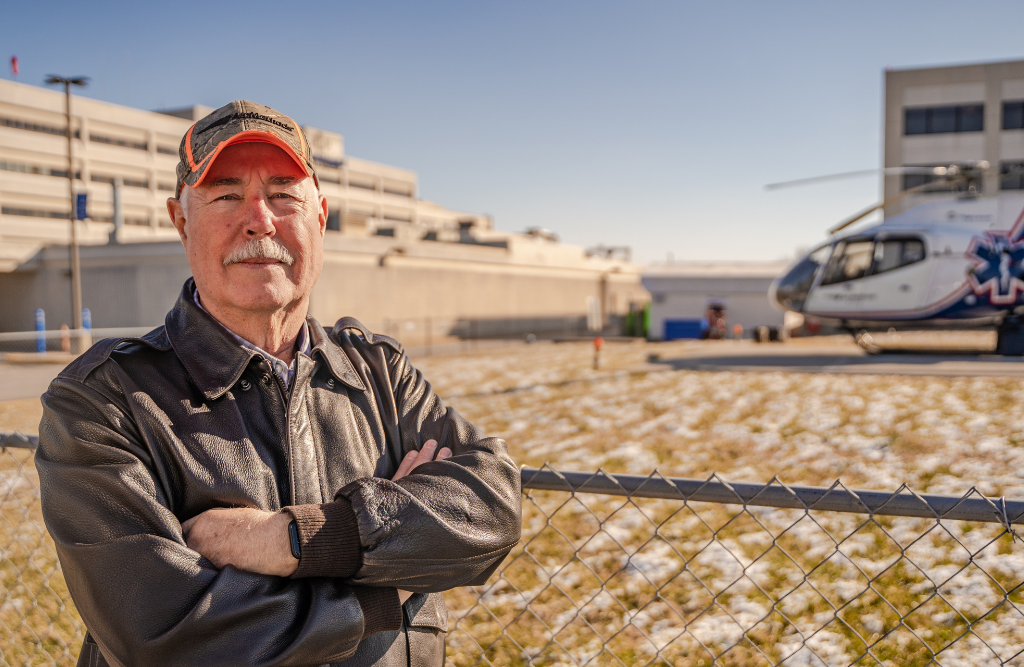 Former Air Methods' Pilot thought He Knew All the Signs of a Heart Attack, Until They Hit Close to Home.
After retiring from the Army after 38 years of service and launching a second career as an Air Methods pilot in Somerset, KY for more than seven years, Rick Branscum always thought he would know if he was having a heart attack. He was familiar with the signs and symptoms and knew to ask about pain radiating down the left arm, severe chest pain, or discomfort in the jaw, neck or back.

But, on October 7, 2020, Rick found himself in the emergency department at Lake Cumberland Regional Hospital, stunned to learn that he was suffering from a heart attack and might have missed the early warning signs completely.
Leading up to the event, Rick recalls that something within him just didn't feel right. "My wife and I had been working on our farm in Wayne County for the few days prior. However, that day we were both feeling tired and decided to stay home," recalled Rick. "It was around lunch time and I had just gotten done eating and immediately started having some chest pain."
From there, his symptoms escalated. Rick became nauseated and ended up getting sick. Nothing he did was providing any relief from the pain. He could now feel it in his left arm and his jaw.
"I honestly thought it was my gallbladder," said Rick. "My wife told me that no matter what it was, it was time to go to the hospital. So, we loaded up and she drove me to Lake Cumberland Regional Hospital, which is the closest hospital to my home in Bronston, KY."
Seamless Coordination, Compassionate Care
Once Rick arrived, he walked himself through the front doors of the emergency room.
"I told the staff member at the screening table that I was having severe chest pain," said Rick. "She immediately announced a cardiac alert and nurses began rushing to my side."
Rick was instantly rushed back for evaluation with blood work and an EKG, which confirmed that he was in fact suffering from a heart attack.
"I was so impressed with the staff at Lake Cumberland and thankful that Dr. Cameron stepped in that day," expressed Rick. "They all moved very quickly, and I honestly think they had me admitted, evaluated, and prepped in the cath lab within 30 minutes."

"This timing is significant because it represents that we are meeting benchmarks for door-to-balloon time that have been set by the American Heart Association (AHA). Door-to-balloon time is a key performance quality metric in the treatment of heart attacks. AHA guidelines recommend 90 minutes or less for the time a patient arrives requiring medical care to the start of the procedure to open the blocked artery. At Lake Cumberland, we pride ourselves on having some of the lowest door-to-balloon times in the state with an average of about 45 minutes," explains Amy McKinney, BSN, RN, RN-BC, Director of the Cath Lab at LCRH.

As an interventional cardiologist with LCRH, Dr. Cameron was onsite the day Rick and his wife arrived at the hospital and he performed Rick's cardiac catheterization. During this procedure, a long, thin, flexible tube (catheter) with dye was inserted into his femoral artery and showed 100% blockage of his widow maker artery. The cardiac team was then able to insert a stent to remove the blockage.
"It is truly a wonderful thing that we have a facility like this so close to home," said Rick. "I am so thankful to have no damage to my heart. If I would have had to travel to another, farther location, I don't think this would be the case."
Rick describes his entire experience as smooth, from start to finish. "I was so impressed by everyone. The emergency department staff, the nursing staff, the cath team, the cardiac rehabilitation team and Dr. Cameron were all amazing," he said. "I was only there for 48 hours, but the care and compassion I received was more than I could have ever asked for."
Watching for Warning Signs
Today, Rick can enjoy his life much like before. He's made successful lifestyle changes related to diet and physical activity and his doctors have given him a clean bill of health. However, things could have looked a lot differently had the events not aligned like they did. Rick urges others to know the typical symptoms of a heart attack and do not hesitate to call 9-1-1 and seek appropriate care.
"If I had to do it all over again, the one mistake was that I didn't call the ER to let them know I was coming," recalled Rick. "If I would have called them they could have been more readily prepared for my arrival. Anything you can do to speed up the process is necessary as timing is everything when it comes to the heart."
Rick's former company Air Methods services the Lake Cumberland Emergency Department via a heli-pad only a dozen or so yards from the ambulance bay. The Air Methods – Kentucky 3 base has been available to area residents since 2002 and is part of the world's largest Air Medical Transport service. Available 24/7/365, Air Methods provides the safe and rapid transports by helicopter of critically ill and injured patients throughout the region. This service provides patients with the best opportunity to reach a tertiary center to help reduce response times during life threatening emergencies. The partnership between Air Methods and LCRH, however, goes beyond just emergency transport. Air Methods-Kentucky 3 is a community-based flight service with a strong desire to educate the community and collaborate with hospital and staff as an educational partner.
"Rick was always very kind and compassionate and was like a father figure to our crew members," said Jeff Sexton, Clinical Base Supervisor of Air Methods KY3. "He is the epitome of safety and professionalism and always ensured our patients received the best care. He continues to be a great friend to all of us post retirement and we dearly miss working with him."
While the team at Air Methods are strategic partners in bringing trauma or urgent care patients to local hospitals, recognizing a heart attack or other emergency when it happens is still key to survival. No matter the circumstances, patients should always seek immediate and appropriate care by calling 9-1-1 right away and traveling to a hospital as quickly as possible. Immediate treatment lessens damage to the heart muscle and saves lives.

"Being here for my wife and family after having a heart attack means everything to me. I've been able to support my wife while she's fighting her battle with cancer and have gotten to spend more time with my grandchildren," explained Rick. "Being able to pin on my oldest grandsons' Army aviator wings when he graduated flight school was a special moment that I'm glad I got to experience. Life is good and God is great."

If you suspect that you or someone else is having a heart attack, call 9-1-1. To learn more about the signs and symptoms of a heart attack, and cardiology services at Lake Cumberland Regional Hospital, visit LakeCumberlandHospital.com/cardiology
Read All Posts