Jackson Purchase Medical Center Welcomes Mobile Clinic to Assist with Tornado Relief Efforts in Western Kentucky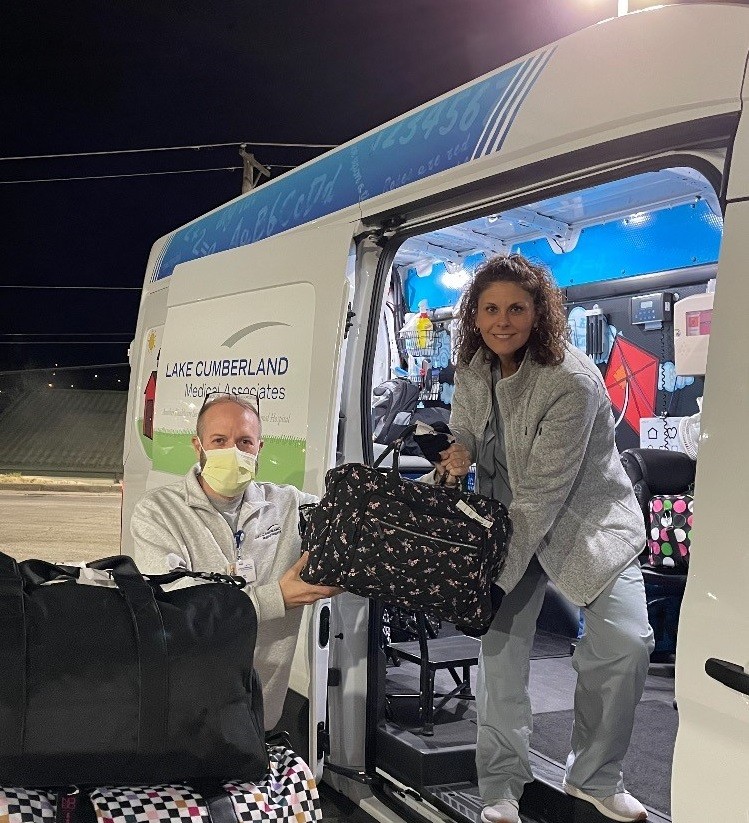 MAYFIELD, KY (December 13, 2020) - Jackson Purchase Medical Center ("JPMC"), in partnership with its sister facility Lake Cumberland Regional Hospital ("LCRH") located in Somerset, Kentucky, has opened a mobile clinic in Mayfield to provide care for non-emergent issues following this weekend's tornado. The mobile clinic, which is staffed by LCRH employees, is open and operating out of the Lowe's Parking Lot in Mayfield until further notice. The site for the clinic was chosen in coordination with the Graves County EOC and Graves County Health Department. Both LCRH and JPMC are owned and operated by LifePoint Health.
While on site in Mayfield, the mobile clinic is providing non-emergency medical care for community members including local residents, first responders and for anyone needing medical assistance locally. Staffed by a nurse practitioner, registered nurse (RN) and licensed practical nurse (LPN), the clinic is able to provide first aid, sick visits, medication refills, testing for flu, strep and COVID-19 and is stocked with first aid supplies and over-the-counter medications. The clinic, located at 1208C Paris Rd in Mayfield, is open and accepting walk-ins all day and closes each day before the Graves County curfew at dusk.
"Our dedicated team of employees and physicians have been focused on caring for the most critically injured patients at our hospital in the aftermath of Friday's storms," said Dave Anderson, chief executive officer (CEO) of JPMC. "With the addition of this onsite mobile clinic, our community gains access to important medical care and resources, which will be vital as we rebuild in the days ahead. We are grateful to be part of LifePoint Health and have a strong network of sister facilities like Lake Cumberland Regional Hospital generously offering critical resources that will help us advance our mission of Making Communities Healthier in the wake of this disaster."
Before heading to Mayfield from Somerset, LCRH hospital staff, including LCRH medical students, packed the Mobile Care van with duffle bags full of clothes, cell-phone chargers, toiletries, blankets, baby wipes, water, and other necessities to distribute to those in need.

"Physicians, nurses and many of our non-clinical staff volunteered to help our friends in the Western part of the state as soon as news about the tornados reached us," shared Robert Parker, CEO at Lake Cumberland Regional Hospital. "Our thoughts and prayers are with those in Mayfield and across Kentucky who have been affected by this disaster, and we are happy to share our resources for as long they are needed."
ABOUT JACKSON PURCHASE MEDICAL CENTER
A part of LifePoint Health, Jackson Purchase Medical Center is a 107-bed (all private), Joint Commission-accredited facility. The hospital is the sole provider of acute care in Graves County and serves patients from the eight counties of the Jackson Purchase. From emergent to elective, our facility offers a wide variety of inpatient and outpatient services.​ Through incredible teamwork and a medical staff beyond what you typically find in a small town, Jackson Purchase Medical Center aims to deliver the best healthcare available in the greater Western Kentucky region. As we seek to achieve our mission of Making Communities Healthier, we treat you like family because you are family. ​
For more information, visit JacksonPurchase.com
ABOUT LAKE CUMBERLAND REGIONAL HOSPITAL
Lake Cumberland Regional Hospital is a 295-bed acute care facility that has served the people of South Central Kentucky since 1976. With more than forty physician specialties and nearly two hundred physicians on staff, Lake Cumberland Regional Hospital offers the most comprehensive medical services in the region. In addition to inpatient services, the hospital's stand-alone outpatient facilities focus on bariatric (weight loss) services, cancer treatment, diagnostic imaging, outpatient surgery, outpatient therapy services, sleep disorders, wound care and hyperbaric medicine, as well as the first Residency Program in the region to provide training to new physicians. LCRH is accredited by The Joint Commission and has been awarded the following specialty certifications: Commission on Cancer certification; The Joint Commission Advanced Certification for Primary Stroke Care; Chest Pain Center with PCI from the American College of Cardiology and The Joint Commission Spine Surgery Certification. The Mobile Care van, called SchoolHouse Mobile Care, was unveiled in 2019 as part of an initiative to better service the healthcare needs of K-12 students and families across three Kentucky school districts – Pulaski County, Somerset Independent, and Science Hill Independent. The mobile clinic serves approximately 10,000 students, educators and school staff annually by offering physicals, immunizations, and acute care visits, alleviating the need for students to take time away from school, or their parents to take time away from work, to travel to a physician's office.
For more information, visit LakeCumberlandHospital.com.
ABOUT LIFEPOINT HEALTH
LifePoint Health is a leading healthcare company dedicated to Making Communities Healthier®. Through its subsidiaries, it provides quality inpatient, outpatient and post-acute services close to home. LifePoint owns and operates community hospitals, regional health systems, physician practices, outpatient centers and post-acute facilities across the country. LifePoint is owned by certain funds managed by affiliates of Apollo Global Management. More information about the company can be found at www.LifePointHealth.net.

Read All Posts