Lake Cumberland Regional Hospital Celebrates 2022 Residency Program Graduates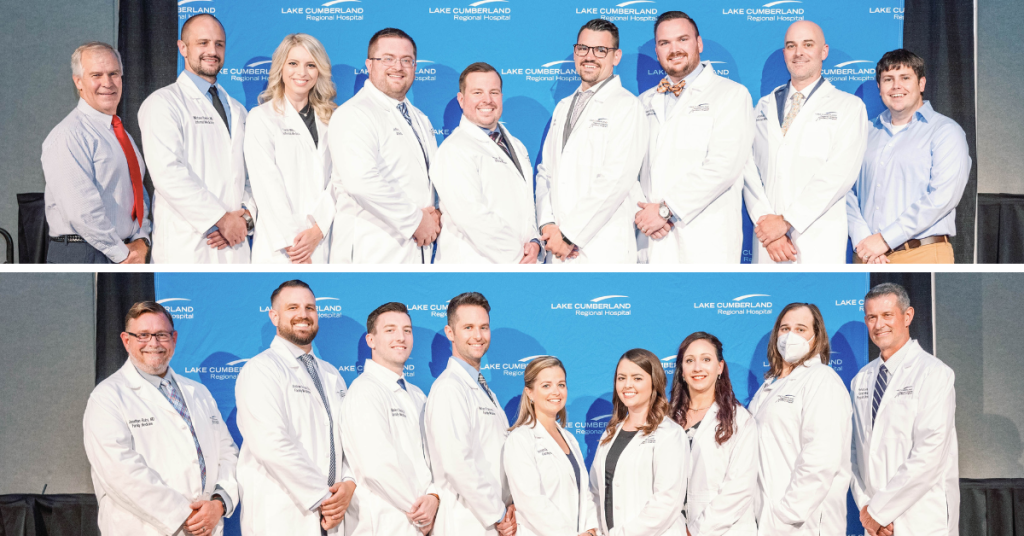 Lake Cumberland Regional Hospital recently celebrated fourteen graduates from the Internal Medicine and Family Medicine Residency Programs, marking the culmination of a three-year training program and a successful endeavor by LCRH to train and develop qualified, competent, and compassionate physicians.
The 2022 Internal Medicine Residency Program graduates include: Michael Baker, MD; Jeffrey Burton, DO; Marvin Cuevas, DO; Joshua Holt, DO; Jordan Laferty, MD; and Sarah Mills, DO. Graduates from the Family Medicine Residency Program include: Samuel Anthony, DO; Anne de Geus, MD; Blake Dixon, DO; Richard Francesco, DO; Andrew Grose, DO; and Brandi Johns, DO.
"We continue to take great pride in helping provide new physicians to the south-central Kentucky area in which we live and are proud of our other graduates who will be practicing all over the United States," said Dr. Joseph Weigel, Program Director of the Internal Medicine Residency Program. "We feel that graduate medical education lifts the medical care that this hospital system is able to provide, and Dr. Jenkins and I and our staff feel fortunate as physician educators to have the opportunity to teach and spread good medical practice. We hope to do so for years to come."
"This group of Family Medicine residency graduates will be spreading out from D.C. to Utah to NY to Alabama to Campbellsville to Somerset. They are equipped with all the tools to help shape the health care of the communities they will join," said Dr. Patrick Jenkins, Program Director of the Family Medicine Residency Program. "I feel blessed to have been a part of their graduate medical education. I thank them for choosing LCRH and thankful to Mr. Robert Parker and his team for providing us the means to help shape the next generation of family physicians. I hope they embrace the gift of being a family physician."
The graduating class of 2022 navigated the COVID-19 pandemic for a significant span of their journey as residents. Experiencing the impact of the pandemic while preparing for their future careers as practicing physicians required great determination, creativity, persistence, and resilience. The challenges and complexities they faced brought into sharp focus their dedication to caring for and providing quality healthcare throughout the community.
The Internal Medicine and Family Medicine Residency innovative curriculum incorporates both inpatient and outpatient medical experiences, as well as many sub-specialty rotations and trains residents to develop the broad clinical, teaching, and procedural skill set essential to providing quality, evidence-based care. Both programs are accredited by the Accreditation Council for Graduate Medical Education (ACGME) and are dedicated to educating the next generation of internal medicine and family medicine physicians to provide quality healthcare for all.
Now in its eighth year, the Lake Cumberland Regional Hospital Graduate Medical Education Department has graduated 64 physicians to date. Since its inception, 20 of these physicians remained at LCRH and joined the medical staff after completing residency training. We currently have 15 resident graduates that are still credentialed with Lake Cumberland Regional Hospital and provide care on our campus. For more information on the residency programs at Lake Cumberland visit gme.LakeCumberlandHospital.com.
Read All Posts