Lake Cumberland Regional Hospital Celebrates Residency Program Graduates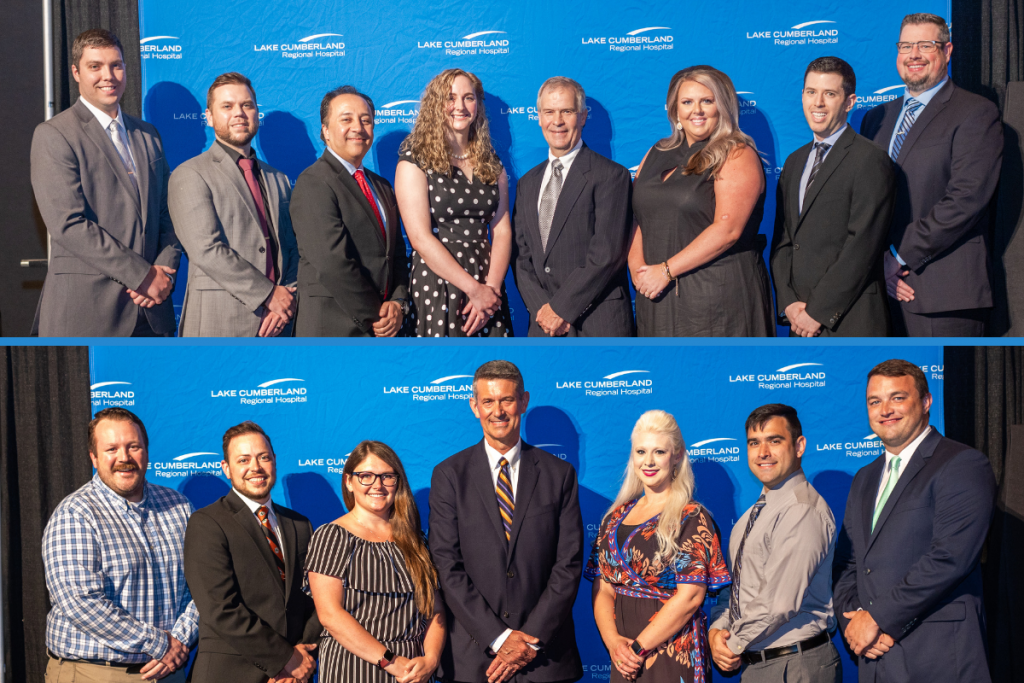 As medical residents gather across the country this spring to celebrate graduation ceremonies – many connected only by video camera or drive-through event – Lake Cumberland was proud to honor this hard-earned achievement at an in-person ceremony for graduates, their families, and physician mentors at The Center for Rural Development on Thursday, June 3, 2021. For the first time since before the COVID-19 pandemic, thirteen physicians from the LCRH Internal Medicine and Family Medicine Residency Programs were able to celebrate by walking across a stage in front of their loved ones marking the culmination of years of hard-work and resilience through challenging times.
"We celebrate the graduating resident class of 2021 as they enter their chosen fields of practice in our region, throughout Kentucky, and across the nation. Several will be pursuing specialty fellowships as well," said Robert Parker, CEO at Lake Cumberland Regional Hospital. "The excellence of these graduates is exemplified by their many honors and achievements, and most certainly by their commitment and leadership during the past year with all of its historic challenges. We at Lake Cumberland Regional Hospital wish them the best, and greatly anticipate the energy of the next rising classes of residents as they progress in our program."
Amidst an already challenging few years for resident physicians as they complete long shifts, research projects, endless charts, and are absorbing information from attending physicians and staff at every turn – these new physicians have also been tasked with advancing their medical expertise during a global pandemic. For this year's graduating class, the dedication to providing high-quality care for local citizens through significant obstacles has not gone unnoticed.
"The past year has been particularly challenging, both in the rendering of medical care during the pandemic and in the educational mission of Graduate Medical Education during this same time frame, said Dr. Joseph Weigel, LCRH Internal Medicine Residency Program Director. "Nevertheless, our physicians in training stepped into the lurch and provided a substantial amount of the critical care rendered during the pandemic in this community, under the supervision of attending hospitalist physicians, many of whom trained in this program also. This hospital and the entire community in southcentral Kentucky owe an enormous debt of gratitude to these physicians. We are pleased to have been available and hope to use the Residency Programs to continue to improve the medical care available to live in this, and surrounding communities."
"We are thankful for the care that this class of graduating residents provided during the pandemic. They stood in the gap during a time of much uncertainty and fear," said Jennifer Stephens Roberson, Senior Director for Physicians & Graduate Medical Education.
Physicians graduating from Lake Cumberland Regional Hospital's Internal Medicine Residency Program this year include Matthew Antalis, DO; Taylor Clayton, DO; Laura Helgren, DO; Kevin Hinson, DO; Soleiman Osman, DO; Ryan Weiss, MD; and Curtis Williams, DO. Graduating from the Family Medicine Residency Program are, Rich Atkinson, DO; Nicholas Fugate, DO; Lyndsey King, DO; Matthew Kirk, MD; Meghan Neireiter, DO; and Mark "Ansel" Peacock, DO. This is the seventh graduating class from LCRH's Residency Program.
"I am so excited for these six graduating residents of the Family Medicine Program. They have persevered and grown tremendously over the last 3 years," said Dr. Patrick Jenkins, LCRH Family Medicine Residency Program Director. "They have had to learn in very challenging, uncharted territory and have excelled. The six communities that these residents will call home will be blessed. I wish them only the best and feel most grateful that they chose Lake Cumberland Family Medicine residency to complete their medical training."
The Internal Medicine and Family Medicine Residency innovative curriculum incorporates both inpatient and outpatient medical experiences, as well as many sub-specialty rotations and trains residents to develop the broad clinical, teaching and procedural skill set essential to providing quality, evidence based care. Both programs are accredited by the Accreditation Council for Graduate Medical Education (ACGME) and are dedicated to educating the next generation of internal medicine and family medicine physicians to provide quality healthcare for all.
To learn more about the residency programs and recent graduates click here.
Read All Posts