Lake Cumberland Regional Hospital residents win Southern Medical Association's PIT Smart Bowl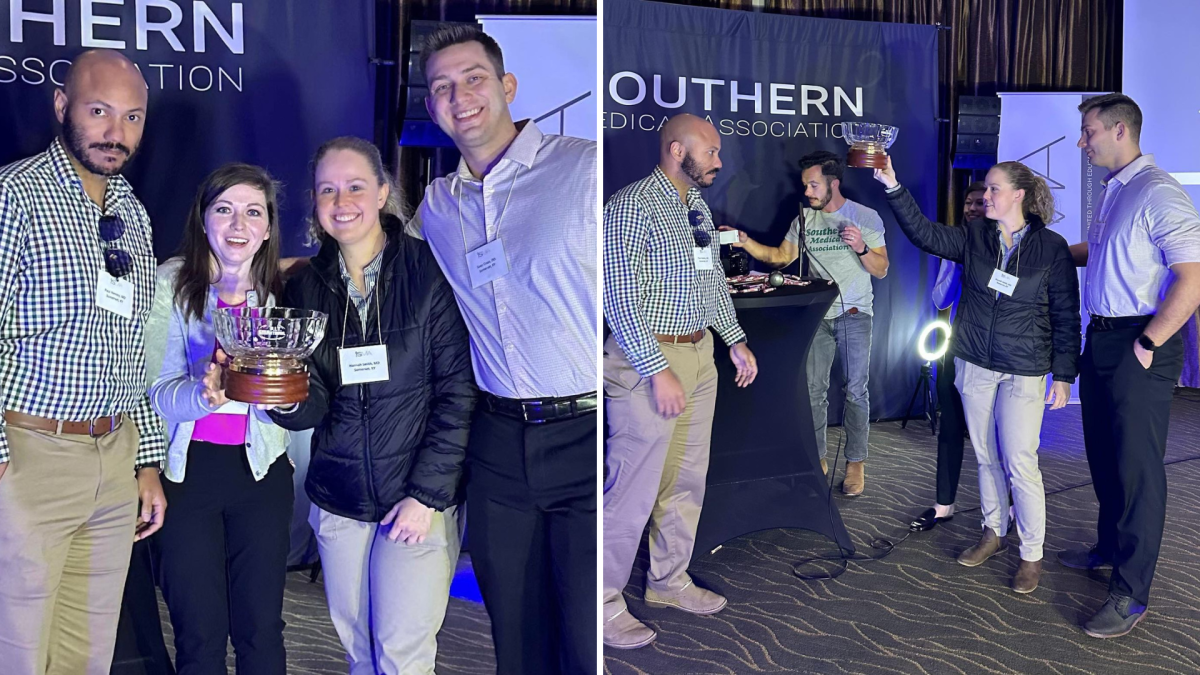 The Lake Cumberland Regional Hospital Graduate Medical Education Program would like to congratulate four of the Internal Medicine residents on their win at the Southern Medical Association's (SMA) inaugural PIT Smart Bowl in Pigeon Forge, TN on Friday, October 28.

The winning team was led by Dr. RJ Blackburn, Associate Program Director of the Internal Medicine Residency Program, and participants were: Dr. Paul Henley, third-year resident; Dr. Shaelyn Dixon, second-year resident; Dr. Sean Graze, first-year resident; and Dr. Hannah Smith, first year resident. The PIT Smart Bowl is a competition consisting of medical students and residents from all over the southern region of the United States who compete by answering rounds of multi-specialty questions. This event is hosted by the Southern Medical Association, whose mission is to improve quality patient care through multi-disciplinary interprofessional education. Winners receive the coveted, SMA PIT Medical Excellence Award.

"In our Internal Medicine Residency Program at LCRH, we are interested not only in clinical excellence, but also academic excellence," said Dr. RJ Blackburn and Dr. Weigel, Program Directors of the Internal Medicine Residency Program. "We take pride in activities like the SMA PIT Smart Bowl, which afforded us the opportunity to demonstrate the hard work we put in daily to accumulate the knowledge necessary to practice good medicine. We then make sure this translates into better care at the bedside for all the patients to see."

The Internal Medicine and Family Medicine Residency innovative curriculum incorporates both inpatient and outpatient medical experiences, as well as many sub-specialty rotations and trains residents to develop the broad clinical, teaching, and procedural skill set essential to providing quality, evidence-based care. Both programs are accredited by the Accreditation Council for Graduate Medical Education (ACGME) and are dedicated to educating the next generation of internal medicine and family medicine physicians to provide quality healthcare for all.

For more information on the residency programs at Lake Cumberland, visit gme.lakecumberlandhospital.com.
Read All Posts